Workshops Painting, Team Painting
Tailor-made workshops for companies and groups.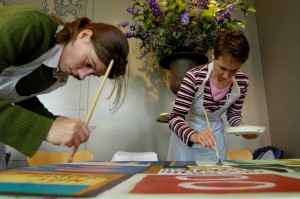 Making a painting together with your group.
Becoming a unity with room for your own creativity.
Within this workshop you learn something about form, colour and handwriting.
Apart from that you find out something about attention, courage and solidarity.
The painting will often be a topic of conversation after the workshop.
A painting full of many good memories.
If the group is big the painting workshop will be accompanied by two persons. In these cases I work together with Willemien Driessen.